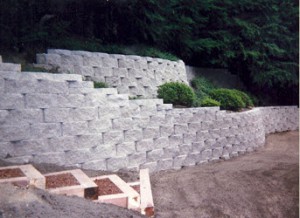 If you are looking for a way to complete the look of your outdoor space, consider adding a patio or building a retaining wall to finish your yard. With the help of Northwest Gardener, you can quickly and affordably dress up your space while adding functionality and protecting the soil from erosion.
Benefits of Retaining Walls
If your land has much of a slope to it, and few yards are perfectly flat, then your soil is at risk of erosion every time it rains. The soil that runs down the hill when it rains is the rich topsoil that your landscaping needs to thrive. If the hill is particularly steep, your risk is even greater.
Retaining walls help eliminate some of this problem. With the right retaining wall design, you can hold up that hill, create a more level surface, and prevent unwanted erosion. You can also create a lovely flower garden out of an unused area of your yard with the right edging and a retaining wall. You can use a retaining wall to build up any area in your hard that is sloped.
Retaining walls require the right planning to be effective and beautiful. For professional retaining wall design, you need the landscapers at the Northwest Gardener. Our landscape industry certified technicians know the most effective ways to build a wall on your property to protect your soil and add beauty to your space.
Benefits of Adding Patios
Another way you can dress up your outdoor space is by adding a patio. If you have a dead, unused space in your yard, a patio can make it interesting and inviting. Patios simply make your outdoor space more functional, all while adding to the overall look of your yard.
Patios create a welcoming outdoor entertaining area, so you can readily host a barbecue or other outdoor gathering. A patio can also give your kids an additional area to play when they need a hard surface to bounce balls or ride bikes.
Installing a patio requires the proper skill and knowledge to design the look and properly install the paving stones. It can be a time consuming process, but the right team of professionals can help make the installation far more efficient. For help with your patio project, contact The Northwest Gardener's today.