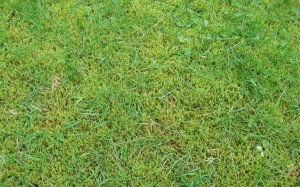 During the months of winter, moss can become a nuisance in your lawn. It can take away from the uniform smoothness and texture of your landscaping & may indicate that you have excessive moisture caused from insufficient soil drainage. There are ways to prevent and treat lawn mossand to rid your lawn of it completely and  The Northwest Gardener is here to help fight winter moss.
You should be sure that your lawn is well fertilized and is maintaining the correct ph levels as well. You should regularly treat your lawn with either a fertilizer that you use once every few weeks  or a time release type that lasts all season. As long as your grass is thick and healthy with no bare spots winter moss will have a difficult time taking hold. You can use a spiking tool to make holes in your soil to allow it to breathe.
You may also want to assess your lawn for too much shade, go outside and look at your lawn at various times during the day. If you notice areas that are shaded for much of the day that area may be a problem area for winter moss. Have your trees trimmed and bushes cut back, to allow the sun to shine on as much of your lawn as possible.
There are products that are available that will help you control moss on your lawn, many of them are combined with a good fertilizer as well. Lime can be applied to bring up ph levels in your lawn too.
Another good tip is to not mow your lawn too low, low or bare areas in your lawn can promote moss growth. When you add moss killing products to your lawn do not rake the treated areas until the moss is completely dead otherwise you may be spreading moss spores as you rake. Contact The Northwest Gardener and let us get rid of that pesky moss and keep your landscaping looking great even in the winter months. You can contact us by phone at 425-905-2450 or online by clicking here.