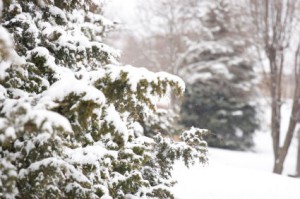 Your home is a presentation of yourself, it represents who are you, how you live, and even what you love. When winter comes, your yard is suddenly harder to keep lively, but just because the sun stops shinning doesn't mean you have to give up the lovely appearance of your front and backyard! The Northwest Gardener offers Landscaping Services in Lynnwood for those in need of some TLC with their landscaping. We have helped countless customers turn their yards into a perfect oasis, even in the middle of winter! It doesn't matter where you live, adding certain features to your landscape will dramatically increase appearance and reduce maintenance during the winter.
Garden in Pots
You don't have to live in a balcony-only apartment to appreciate potted plants; in fact plants that live in portable locations are perfect for the winter—or any time of year! If you want a more lasting look, you can install permanent affordable planters that look great, produce lovely plants, and can be crafted from recycled materials.
Stick to Native Plants
A 'native plant' simply means what it says—with or without our help, this plant will easily grow in your yard because it is a production of your areas' particular element and climate. Therefore, even when winter hits hard, these species know how to bounce back at the first sight of sun. Do some research at your local library or simply browse the web for photos of native plants, pick the ones you like best and enjoy the fact it will require little maintenance on your part, as it can live off the land alone!
Add Permanent Features
A yard doesn't have to be full of only grass and flowers; concrete, rocks, statues, and ponds are only a few of the many elements one can add into their landscape plan. An immense amount of grass gets costly to water and tiresome to mow, therefore adding decorative walking paths made of concrete, stone, or brick is a great option, especially in the winter! Enjoy getting creative, imagine a built in garden-side bench with places for lovely potted plants built right into the design. The options are endless with The Northwest Gardener! Let us know what Landscaping Services in Lynnwood you need, we are here to assist you! Contact us at 425-905-2450 or by clicking here.