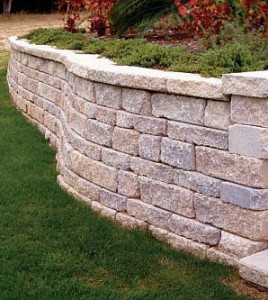 If you are planning a big  landscaping project, and your Bothell property slopes, you might consider adding a retaining wall to your landscape design. A retaining wall is vital not only to the look of your project, but also to protecting the integrity of your landscaping and your yard. Because of this, it is best to get professional help when installing retaining walls.
Common Uses of Bothell Retaining Walls
Retaining walls are used to hold back soil and prevent erosion. Sometimes, steep slopes in a yard can cause unnecessary erosion. Even when naturally occurring, these slopes can cause healthy topsoil to wash away, making it more difficult to plant flowers and other plants in the area. They can also create a dangerous fall hazard, particularly when wet and slippery.
Other times, landscaping causes an unnatural change in elevation. For example, if you add a sidewalk or walking path on a sloped area, you must carve away some of the dirt. This creates an extremely steep slope that can cause serious erosion. Not only that, but a wall of dirt is not an aesthetically pleasing addition to your yard.
In both of these instances, a retaining wall provides a solution. It holds back the soil, eliminates fall hazards, creates an aesthetically pleasing look and helps prevent erosion. In any instance where you have a steep grade, you can use a retaining wall to hold things where they should be.
Where to Turn for Your Retaining Wall
Doing a retaining wall on your own could be a problem. A poorly installed Retaining Wall could potentially fall, causing disaster in your yard. Not only that, but this is a very labor intensive project. In most cases, you would be better off having a professional help you with this particular landscape design project.
If you find yourself in the market for a retaining wall, The Northwest Gardener is here to help. We can help you with all of your landscape design needs. Our team of Bothell Landscape Designers will help you plan for, design and install your retaining wall. By having a professional help you with the process, you can be certain that the end result will be as beautiful and effective as you want it to be. Call The Northwest Gardener today to get a quote for your retaining wall project or landscape design (425) 905-2450 or click Here.