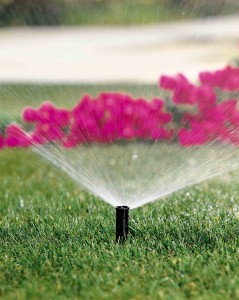 Summer is just around the corner, and the thought of getting your landscaping ready for summer, has probably already crossed your mind. As you buy your seeds, plants and fertilizer, be sure you are making plans for proper irrigation as well. Irrigation Systems ensure that your plants have enough water, no matter what Mother Nature may bring us.
Many Bellevue property owners look at Irrigation System cost and turn the other way. They assume that they can properly water their plants without an irrigation system and save a little money. In theory, this is true, but most people end up forgetting to water as the summer progresses and the temperatures get hotter. This is very detrimental to the plants, and can end up costing you your yard or garden. In retrospect, the small irrigation system cost is often outset by the knowledge that your lawn will have the water it needs no matter what you do.
To some who just have smaller yards, irrigation systems sound too complex. This sounds like something a farming property would need, but not the average homeowner. This notion couldn't be further from the truth. You can purchase an irrigation system that is quite simple, perfectly suited for the home gardener. If you are investing a lot of money into your plants and your landscaping, this will be like the insurance to ensure that the plants thrive all summer long.
Remember, an irrigation system continues working even if you are not home. If you plan a vacation in the middle of the driest part of the summer, you will not have to worry about your lawn or garden, nor will you have to pay someone to water it. It will stay sufficiently watered the entire time you are gone. It also delivers the water more directly to the plant roots, where it is needed, so less is lost to evaporation. This can help you maximize your financial resources by lowering your water bill.
If you already have a system in place, this is the time to check if it needs to be fixed. Irrigation repair at the beginning of the season will ensure that the system runs well as long as you need it to. The sooner you get your system up and working well, whether you are investing in a new one or repairing an existing one, the better your success throughout the growing season will be. Click Here for our Bellevue Irrigation System coupon.