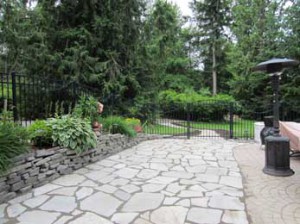 Creating outdoor living spaces is becoming quite popular as more and more people are looking for ways to enjoy their backyards. One way to transform a drab backyard space into an outdoor living area is with a flag stone patio. Seattle Flag Stone Patios do not require large equipment to install, look great and are quite durable. If you are ready to embrace this look in your backyard, The Northwest Gardener is a local Seattle Contractor here to help ensure that you have it installed by trained professionals.
Pouring a cement patio requires you to bring a cement mixer into your yard, and this can be quite disruptive to your existing landscaping. This is not necessary with a stone patio. While quite labor intensive, and that is why you want the help of a professional to install these, they do not require large, bulky equipment. This means you can have a beautiful, custom design in your backyard, even if you have limited access.
Not only that, but a flag stone patio installed by one of the trained professionals at The Northwest Gardener looks amazing. Unlike a cold, unwelcoming cement slab, a stone patio becomes a piece of art, incorporated beautifully into your outdoor landscaping. You are not tied to the square or rectangular design when you choose a stone patio, but rather can build a custom design exactly how you want it. This lends itself to a more natural look, allowing you to tie in the patio's form and design to your existing or planned landscaping.
If you find yourself in the market for a flag stone patio, contact The Northwest Gardener today. We will help you not only build the patio, but also help you create it. Our experienced landscapers are experts in designing the perfect outdoor space. If you think the natural look of a Seattle Flag Stone Patio is what you need, give us a call today to learn more about our services. We are ready to help you transform your outdoor living space into a calm, tranquil retreat with a beautiful stone patio. Contact us at 425-905-2450 or by clicking Here.