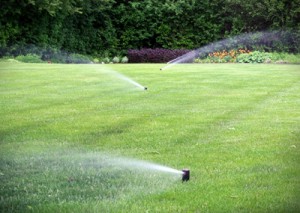 If you are looking for water savings for your Lynnwood Irrigation System, then look no further than our service and the Rain Bird sensor we offer. With this cutting edge rain sensor, you can ensure that your lawn and garden stay green and beautiful all year long, while avoiding using water when you don't need to use it.
Smart System Senses Rain
Automatic irrigation is the key to a beautiful yard while maintaining a busy lifestyle. Yet, when it rains and your irrigation continues to run, not only do you waste water and money, but you also can end up over-watering. This can cause problems for your grass and other plants.
The key is a smart system that senses rain. The Rain Bird irrigation sensor does just this. It runs automatically throughout the growing season, keeping your plants well watered. Yet, when it rains, it has built in technology to sense that rain and shut off the irrigation. This provides energy savings for irrigation while also helping you conserve water.
Affordable Energy Savings for Irrigation
We know that you have many companies you can turn to for your irrigation needs, but we believe the Rain Bird sensor offers the best results and excellent energy savings. It installs to your existing irrigation system, wirelessly sending a signal to the irrigation device about when to turn on and off. When this technology is combined with our superior services, you cannot go wrong.
Not only that, but it is quite affordable. At just $180 (plus tax) per clock, you can keep your yard watered all year long, without worrying about wasting water and your money. Most single-family residential properties have one clock to keep their yards looking great.
To add to the savings, we are offering a coupon for 10 percent off your order. Simply print it out and show it to the technician who is installing your system for additional savings or let us know when scheduling your appointment.
Superior Customer Service
In addition to our innovative irrigation solution and our affordable pricing, we are dedicated to offering you superior customer service. From your first phone call to the finished product, you will notice a difference when you trust us for your Irrigation System needs.
So call today (425) 905-2450 to discuss your questions with one of our friendly staff members and let us help you keep your yard green and beautiful all year long, or click Here to contact us now online.